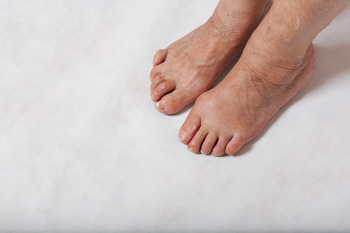 A hammertoe gets its name from a deformity of the toe that has the appearance of a hammer. The deformed toe gets curled because of a bend that occurs in the middle joint of the affected toe. This often happens due to wearing improperly fitting footwear, such as high heels or shoes that do not have sufficient room in the toe box. The toes are forced to move into a space that is too small or that does not allow for them to lie flat comfortably. This process causes the muscles to tighten and tendons to contract. Other factors that can cause hammertoes include genetics, a broken toe, a sedentary lifestyle, and diseases that inhibit blood flow to the foot. The affected toe(s) may become painful to move and, due to their odd positions, might rub against the inside of shoes causing corns and calluses to form. Often changing footwear and getting orthotics is enough to relieve pain, but if that does not help or the toe has become inflexible or rigid, surgery might be required. Risks of hammertoe surgery include pain and swelling at the site of the operation. If the pain radiates to other parts of the foot, the surgery may have caused nerve damage. Other complications can be numbness, limited range of motion, and infection. The surgery and side effects often depend on the severity of the condition. If you have a hammertoe, it is advised that you see a podiatrist as soon as possible. Tending to this early may help prevent the need for surgery and any complications that could arise.
Hammertoe
Hammertoes can be a painful condition to live with. For more information, contact Jeffrey Rosenblatt, DPM from New York. Our doctor will answer any of your foot- and ankle-related questions.
Hammertoe is a foot deformity that affects the joints of the second, third, fourth, or fifth toes of your feet. It is a painful foot condition in which these toes curl and arch up, which can often lead to pain when wearing footwear.
Symptoms
Pain in the affected toes
Development of corns or calluses due to friction
Inflammation
Redness
Contracture of the toes
Causes
Genetics – People who are genetically predisposed to hammertoe are often more susceptible
Arthritis – Because arthritis affects the joints in your toes, further deformities stemming from arthritis can occur
Trauma – Direct trauma to the toes could potentially lead to hammertoe
Ill-fitting shoes – Undue pressure on the front of the toes from ill-fitting shoes can potentially lead to the development of hammertoe
Treatment
Orthotics – Custom made inserts can be used to help relieve pressure placed on the toes and therefore relieve some of the pain associated with it
Medications – Oral medications such as anti-inflammatories or NSAIDs could be used to treat the pain and inflammation hammertoes causes. Injections of corticosteroids are also sometimes used
Surgery – In more severe cases where the hammertoes have become more rigid, foot surgery is a potential option
If you have any questions please contact our office located in Brooklyn, NY . We offer the newest diagnostic and treatment technologies for all your foot and ankle needs.
Read more about What Are Hammertoes?